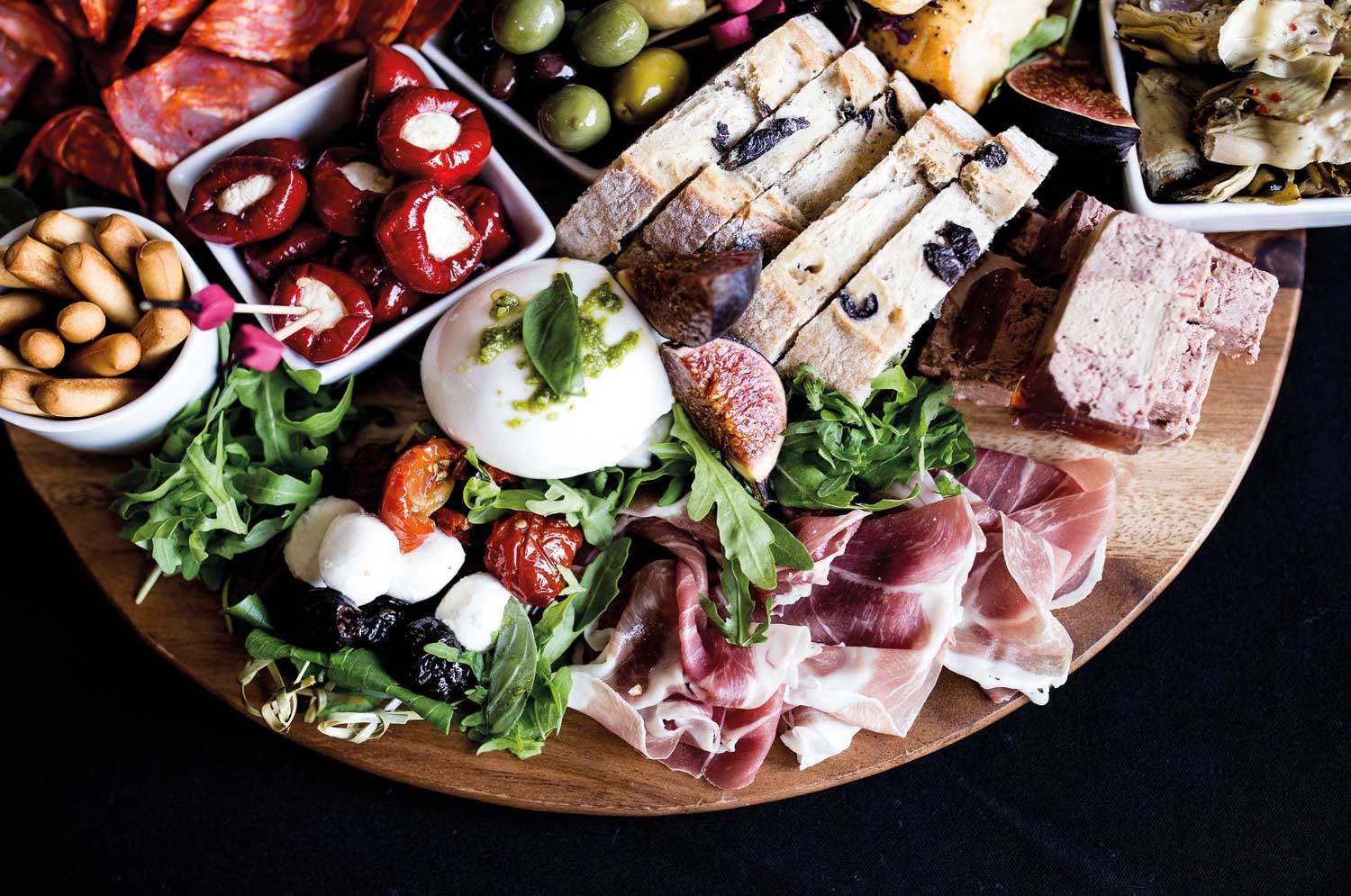 Wedding Catering Glasgow / Scotland
Did you get engaged over the festive period? It's never too early to start planning your wedding catering. This may be your first experience of planning an event but don't feel flustered – our events team are on hand to answer any questions and provide top tips! We can help you select the perfect menu to suit your style and tastes. We can also help with your venue selection should you not have selected yours yet!
We can cater in venues, marquees, gardens, fields, farms, barns, the lot!
Whether you want a traditional 3 course sit-down meal or something more casual, we've got you covered!
For those of you looking for something a little different, we've put together some popular alternatives below.
More canapes instead of a starter
Instead of a plated starter you can serve a delicious assortment of hot and cold canapes during your drinks reception. We would recommend serving 6 or 7 items per person from a selection of 10.
Some examples include: Mini Pulled Pork Sliders, Mini Fish & Chip Pokes, Bamboo Skewered Teriyaki Beef with Sesame Seeds & a Ponzu Di, Truffled Brie & Honey on Toasted Sourdough.
These can be presented on white garnished platters, wooden boards, slates or any other texture that fits in with your venue or theme.
Bowl Food
You may prefer bowl food during the reception as an alternative to a starter. We can arrange for poseur tables or barrels for guests to put their glass down so they can eat this with ease and not juggle a glass, fork and bowl. Some bowl food examples are:
Teriyaki Beef Noodles
Pulled Beef Brisket, Horseradish Mash, Honey Glazed Carrots & Parsnips
Sticky, Spiced Aubergines with Toasted Sesame Seeds and Spring Onions
Chicken Stroganoff, Wild Basmati Rice
Sharing Platters/ Grazing Tables
Lots of couples are now opting for grazing stations instead of canapes or sharing platters served to the table in place of starters for guests to help themselves to.
Some examples:
Italian/ Scottish Fusion Grazing Table
Selection of Cured Meats
Spicy Italian Sausage Rolls
Mozzarella Pearl, Sundried Tomato & Basil Skewers
Stuffed Pimento Peppers
Flamed Artichokes
Italian Marinated Olives
Selection of Artisan Breads
Selection of Scottish/ Italian Cheeses & Artisan Biscuits
Vegan Grazing Table
Crushed Pea Pastizzis
Tomato & Basil Bruschetta
Mushroom Falafel
Butterbean Pâte, Mini Oatcakes
Selection of Breads & Dips:
Green Harissa Hummus with Jalapeños
Roasted Carrot & Toasted Cumin Puree
Olive Tapenade
For the BBQ lovers
Serving platters of BBQ items
Brioche Buns With 6 oz Steak Burgers,
Chicken Fillets Marinated in Smoky Chipotle Adobo
Chargrilled Salmon Fillets with Orange Butter Sauce
Harissa Halloumi Kebabs V
Mini Corn on The Cob with Chilli Butter V
Served with a Selection of Salads such as:
Carrot & Cumin Slaw
Mango, Tomato & Red Onion
Summer Bean Salad – Mixed Beans, Avocado, Garlic & Lime 
Or instead of BBQ items you could opt for a hog roast or lamb along with a selection of salads, rolls, apple sauce, BBQ sauce, the choice is really yours!
Carve your own Beef Joint
Or why not carve your own joint at the table – a fun, interactive way to serve beef. Under one guests' seat at each table ask the events team to place a chef's hat and whoever ends up with the hat is responsible for carving. Joints of beef are brought to each table along with carving knives and forks. All accompaniments are placed on the table for guests to help themselves to. These typically include a mix of mash and roast potatoes, a duo of seasonal vegetables, gravy & horseradish cream.
3 Course Meal
While there are so many options please don't be overwhelmed! Let us know what you like and how you want the day to flow and we'll come up with a menu based upon your tastes. And by the way –the traditional sit-down meal is still one of our favourites – some things never go out of style!