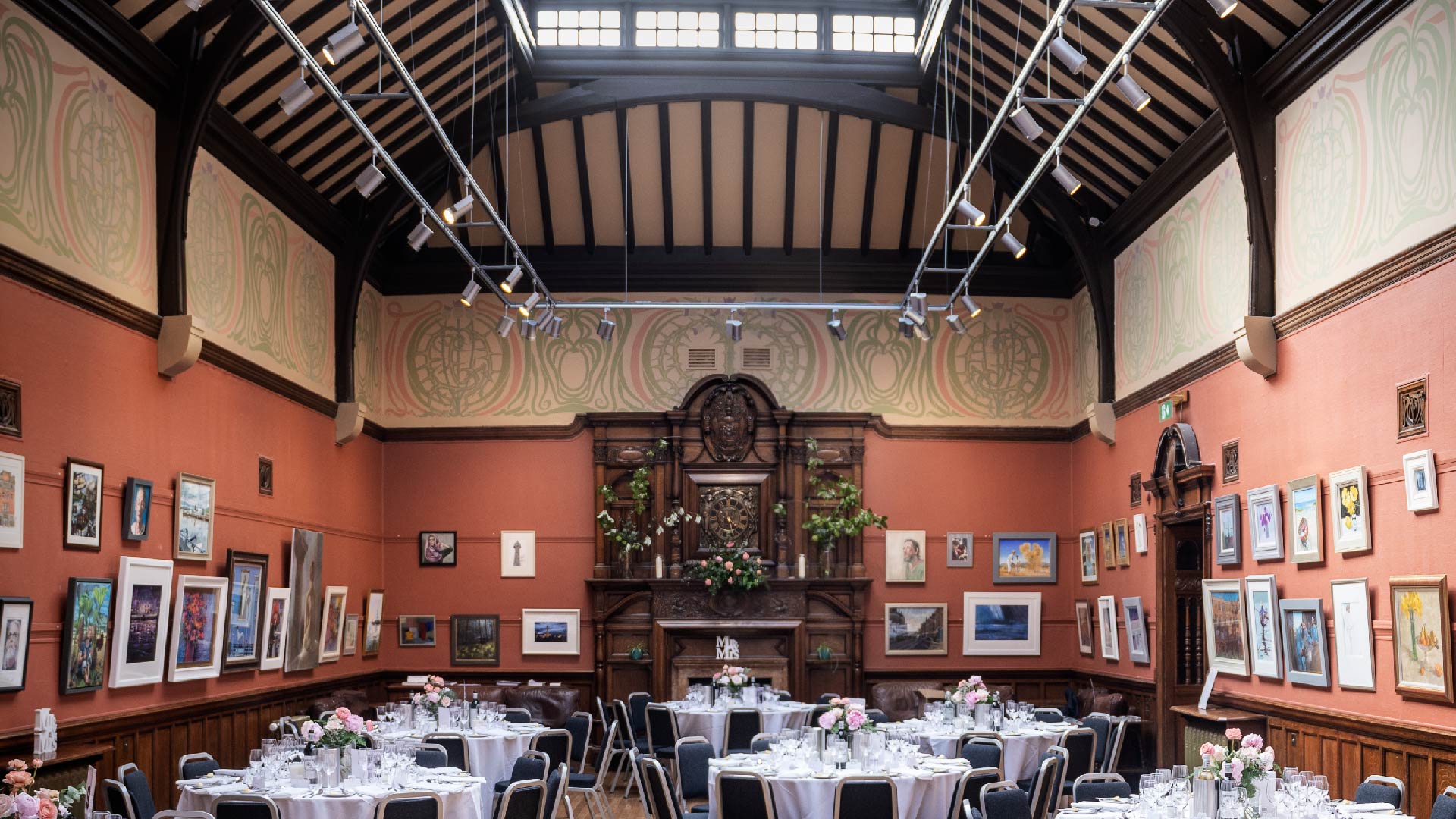 Glasgow Art Club
We are extremely lucky to be working with one of Glasgow's finest and most reputable venues, the Glasgow Art Club. We spoke to Marketing Manager Naomi Brown to get more insight on the venue's history and exquisite features which include designs by Charles Rennie Mackintosh.
What sort of events would you recommend Glasgow Art Club for?
Ultimately, the Glasgow Art Club is the perfect city centre wedding venue. It's also ideally suited to corporate hospitality, networking events, meetings, dinners and parties; as well as concerts & gigs, recitals, and of course family celebrations such as birthdays and anniversaries.
Whether you're looking for a venue for a family gathering or a corporate one, we can tailor-make an event to suit your needs.
Obviously your incredible artwork is an attractive element but do you have a favourite venue feature within the building?
Our large gallery space, with artworks on the wall and its beautiful architectural features and impressive high ceiling. Your immediate reaction will be 'wow!'
Any especially lovely areas for couples to have pictures taken?
There are too many to choose just one! Our Gallery is of course gorgeous – with two stunning Mackintosh fireplaces and artworks by our members hung on the walls.
For something a bit different, our artist studio on the 2nd floor has a really quirky feel to it. Our porch boasts Charles Rennie Mackintosh designed wooden and glass panelled doors and the steps are ideal for those all-important group shots. It might sound odd, but our Gents loos are actually really photogenic! They are grade-A listed and full of Victorian charm (no, seriously!). If you're looking for wedding photos that are a bit different from the norm, we've got you covered!
What is your minimum/ maximum capacity?
We don't really have a minimum. Our Maximum capacity is 120 (100 for a seated meal).
How far in advance would you recommend booking?
If hiring for a wedding or other large event then at least eight months to a year, or more, but we do sometimes have last minute availability and are happy to accommodate where possible. For small events we are able to take bookings up to one week in advance (but ideally we prefer a bit more notice!).
Are there any especially busy periods?
We are particularly busy over the winter months, so if you are planning an event between October and February, it's best to try and let us know as soon as possible.
Is there something which makes your venue especially impressive?
Our history & heritage. Founded in 1867, the Glasgow Art Club has occupied its current home on Bath Street since 1893 when two adjacent townhouses were transformed by architects Honeyman & Keppie, employing Charles Rennie Mackintosh, into the magnificent Clubhouse which stands today. The Grade A-Listed Clubhouse is resplendent with historically significant interior features – many of which were designed by Mackintosh when he was only 25 years old.
Recent extensive refurbishment with substantial financial aid from The Heritage Lottery Fund and Historic Scotland with generous contributions from private donors, has resulted in restoration of our large Gallery to its original Victorian splendour.
From the outside, you'd never think that the Club had the expanse of rooms and impressive gallery that's tucked behind the unassuming entrance.
What would be your perfect three course event menu?
That's a tricky one! I'm vegetarian so my 'perfect' wouldn't suit everyone… I've actually just been looking at your festive menus and I must say, they had me salivating!
If I were to choose from there I would definitely go for the Winter Salad Turmeric Roasted Cauliflower, Kale, Quinoa, Chickpeas, Sweet Potato, Tahini & Maple Dressing to start, followed by Caramelised Butternut Squash, Beetroot & Pumpkin Nut Roast and then it would be toss up between Mulled Wine Poached Pear, Vanilla Cream, Ruby Port Syrup or Chocolate & Cherry Brownie with Coconut Cream (can I have both?).
One of the things which I particularly love about you guys is that you don't shy away from creating exciting and delicious options for us veggies – you actually care about creating dishes for us instead of just thinking about us as an afterthought (or as a nuisance!).
Interested? Check out their website.
Prev post in category